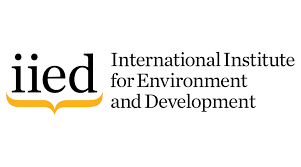 The Forest and Farm Facility (FFF) [1]Country Coach, Sophie Grouwels, was on a working mission to Ghana together with the International Institute of Environment and Development (IIED) team led Duncan MacQueen and a Researcher, Stephen Mwangi from 01 June to 10 June 2023.
During the mission, Sophie and the IIED team visited various field sites including Nyamebekyere  in Ashanti Region and PADO charcoal production sites in Ahafo Region, CADER in Upper West and Tele-Bere in Bolga among others.
The team paid a visit to the FAO Ghana office and the Forestry Commission. Several topics were discussed such as Extension of FFF phase 2, inclusive economic development through forest and agriculture, agri-business, access to finance, business incubation, inclusive social protection, stability and peace. The FAO Representative (FAOR) to Ghana and Deputy FAO Regional Representative for Africa, Mr. Yurdi Yasmi was pleased to meet the team and had acknowledged that the FFF's work is in the direction of FAO country programme. He further called for closer collaboration and synergy with UN and government programs. At the Forestry Commission, the Deputy Chief Executive (DCE), Nyadia Sulemana Nelson commended the efforts of FFF for supporting Forest and Farm Producer Organizations (FFPOs) in the country. He stated that he was happy to hear many associations have come together under GhaFFaP[2] to provide voice to be heard. He also mentioned that the Forestry Commission is ready to support FFF in its endeavors in the country.
The FFF team on mission precipitated and supported GhaFFaP round table discussion with financial institutions including Fidelity Bank, Opportunity International and Best Point Savings and Loans. As a key output, the meeting led consensus on the need to work together to improve access to finance for FFPOs.
Training of GhaFFaP members/FFPOs: At the end of the mission, members of GhaFFaP )  14 FFPOs represented by Savanna Women Farmers Association (SWFA), Abrono Organic Farmers Association (ABOFA), Kokoopa Farmers Association, Community Action in Development & Research (CADER), Wassa East Cocoa Farmers Cooperative Union (WEC), Tele-Bere Village Savings & Loans Association, Asetenepa Cocoa Farmers' Cooperative Union, Offinso Fine Flavour Cocoa Farmers Cooperative, Private Afforestation Development Organization (PADO), Maaltaaba Peasant Women Farmers Cooperative (Maaltaaba), Kessena Nankana Baobab Processors Cooperative Union (KANBAOCU), Innovations for Sustainable Rural Development (ISRD), Zuuri Organic Farmers (ZOVFA) from the three ecological zones of Ghana (Savannah, Transition and Forest ecological zones), were trained on Business Risk Assessment and Business incubation through a two-day training with the support of the vising FFF team. The training also received participation from National FFF facilitators from other FFF countries (Togo and Liberia) to learn the training tools and approach for their countries.
[1] The Forest and Farm Facility (FFF) is a multi-partnership trust fund between the United Nations Food and Agriculture Organization (FAO), the International Institute for Environment and Development (IIED), the International Union for Conservation of Nature (IUCN), and AgriCord. The Facility is funded by Finland, Germany, and Norway through the Flexible Multi-Partner Mechanism of FAO, Sweden, the Netherlands, the United States of America, and IKEA.
[2] GhaFFaP (Ghana Federation of Forest and Farmer Producers) – a national apex federation of smallholder forest and farm producers, is a key partner of the Forest and Farm Facility in Ghana.